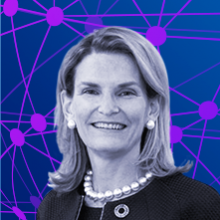 Doreen Bogdan-Martin was elected Director of the ITU Telecommunication Development Bureau on the 1st of November 2018.  She took office on the 1st of January 2019. She is a strategic leader with 30 years of high-level experience in international and inter-governmental relations. She has a long history of success in policy and strategy development, analysis and execution.  Ms. Bogdan-Martin serves as Coordinator of the Broadband Commission for Sustainable Development.
 From 2008-2018, she led the Strategic Planning & Membership Department of ITU. Ms Bogdan-Martin was responsible for the organization's strategic planning processes, while also overseeing the organization's Membership, Corporate Communications and External Affairs teams. She also served as Coordinator of United Nations affairs for the organization, putting ITU at the center of digital aspects of sustainable development. Ms Bogdan-Martin previously headed the Regulatory and Market Environment Division of the Telecommunication Development Bureau and was responsible for the programmes on Regulatory Reform and Economics and Finance.
Prior to joining ITU, she was a Telecommunications Policy Specialist in the National Telecommunication and Information Administration (NTIA), US Department of Commerce.
Additionally, Ms Bogdan-Martin is an affiliate of the Harvard University Berkman-Klein Center for Internet and Society, currently serves as the Co-Chair of the United Nations Strategic Planning Group, Chair of the Academic Council for the Swiss Network for International Studies, and is a member of the Board of Governors of the UN Staff College.  She is also an amateur radio operator.